Diep Son Island is an archipelago consisting of three islands, one large and two small lying in Van Phong Bay in Khanh Hoa province. Recently, this place has suddenly become famous and impressed tourists by the two sections of the road connecting the three islands together, each about 800 meters long. This can be considered as a unique landscape in Vietnam. Coming to Diep Son, you can travel to Diep Son on your own or take a tour of Nha Trang, today Let's Fly Travel will guide you through the latest self-sufficient Diep Son island travel experience below!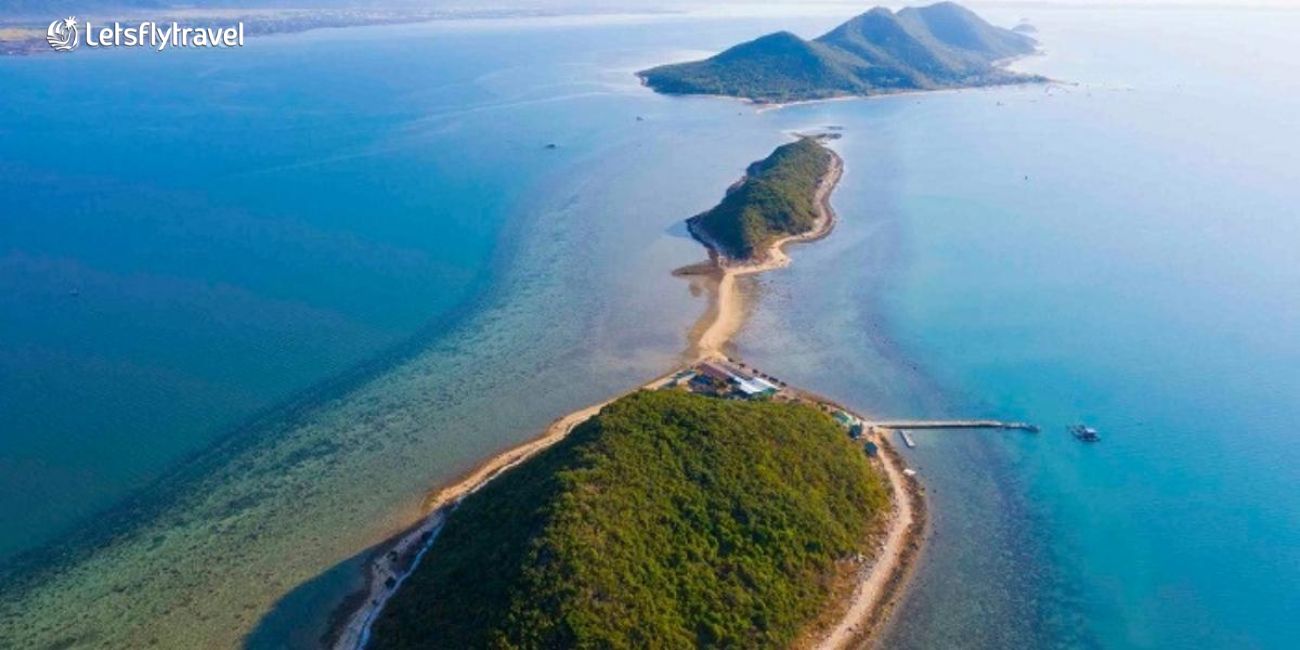 Introducing Diep Son Island?
Never heard anyone explain the name Diep Son, but based on the traces on the island, it can be recognized that there are a lot of scallops here and maybe the ancients took the name of this sea scallop to name it. for the island.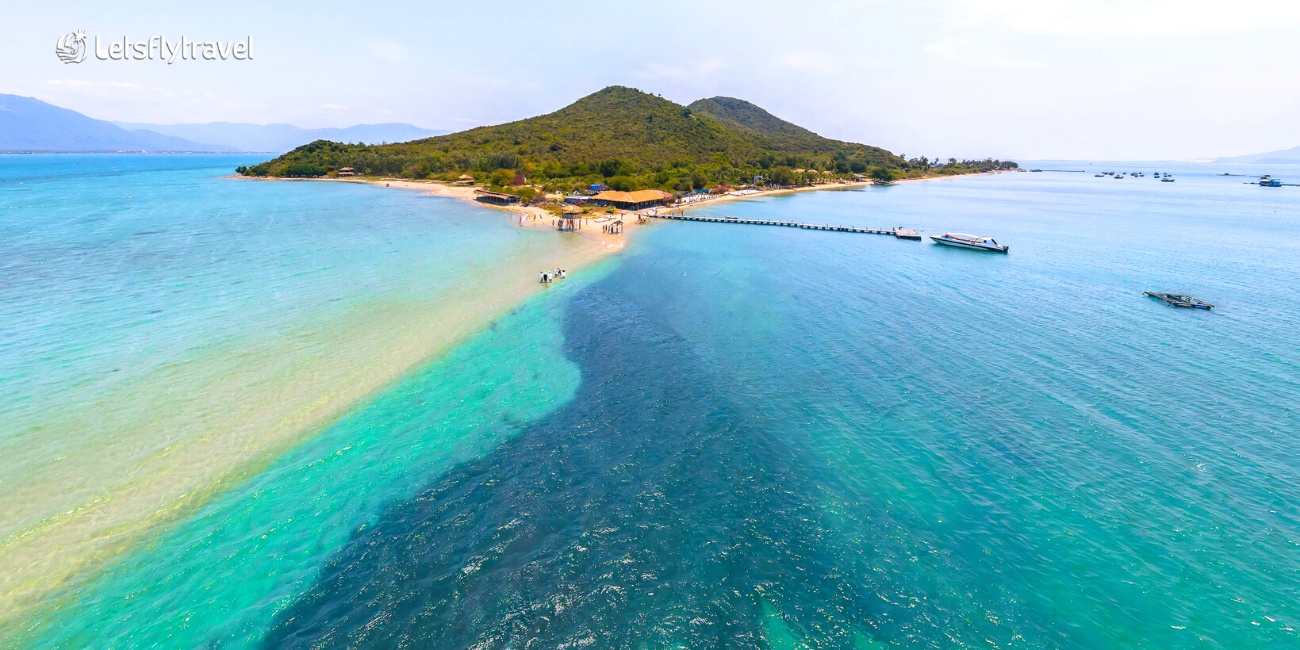 The largest island and also the only island inhabited is Diep island with a length of nearly 2.5km. The other two smaller islands are O island and Crow island. These three islands have a natural sandbar connecting to create an inert dry path at low tide, slurry when the tide is high and about half a meter high.
Self-sufficient travel experience on Phap Son island
On the island there are many green trees, the island has many fine white sand beaches. The center of Diep island is Diep Son peak with a height of about 130m, it is said that in the past, the island had too many Bim Bip birds, so it was called Hon Bip, that name exists to this day. Fishermen passing through the area often get drinking water from the main island. In the morning, at about 5.6 am, a sandy road running straight to the seabed will appear, a lot of tourists slowly follow this natural sand road connecting the middle island with the big Diep Son island, feeling that there is still a road. winding about nearly 3m wide and lying a few inches below the clear blue sea, a strange feeling of excitement and thrill makes everyone want to try it once.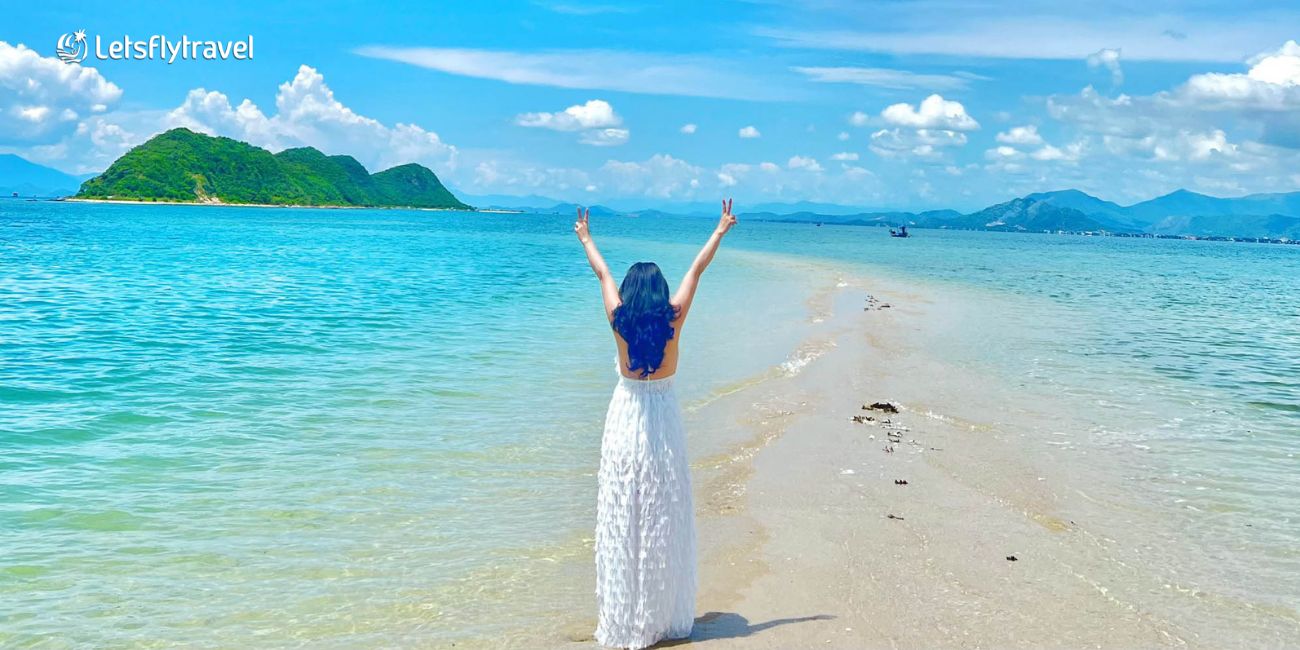 In which season should you go to Phat Diep Son?
From June to December every year, this will be the most ideal time to travel to Diep Son. By this period, the sea is calm, the climate is fresh, the sun is warm and there is no rain. If you are prone to seasickness, you will not be affected much.
Exploring Diep Son island the way under the sea?
Diep Son Island has more than 80 households, people live by the sea and life still has many difficulties, the rate of children going to school is low. On the island there is only electricity from 6 to 9 pm thanks to a generator. About a year ago, Diep Son was an archipelago that was still quite strange to many people, so it still retains the wild and clear beauty of the sea, the people are very gentle and hospitable.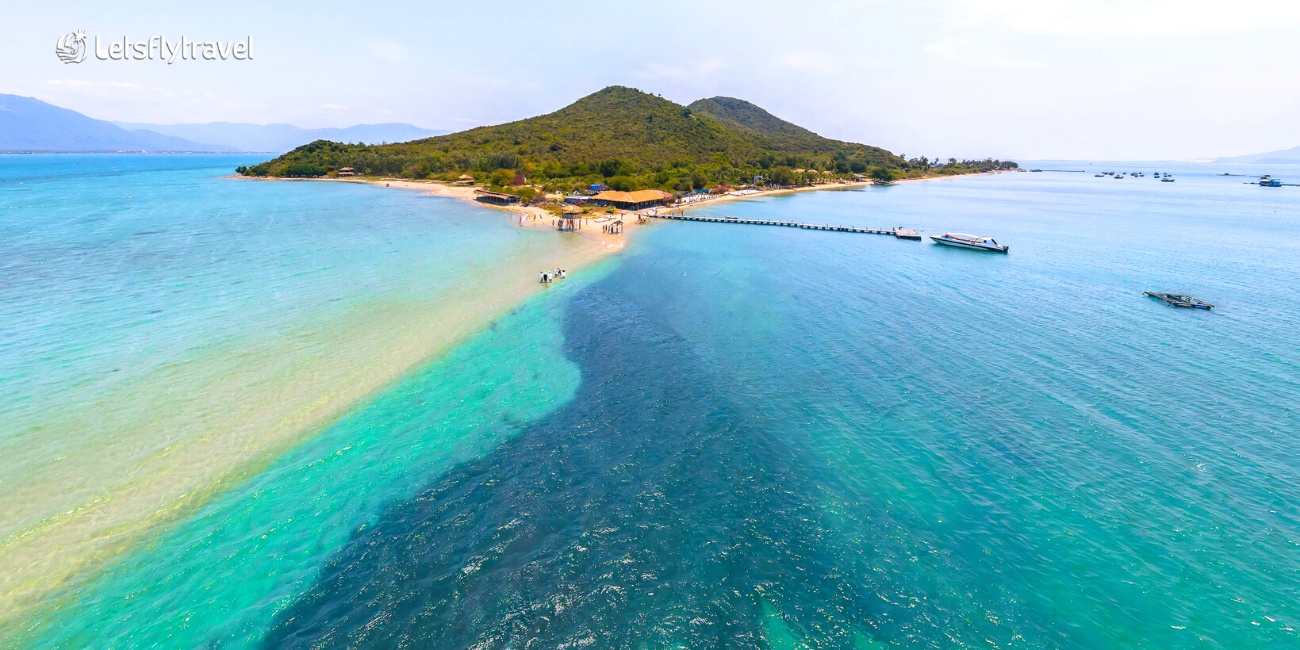 Since Diep Son was promoted, tourists came to visit more and more and it seemed like Diep Son was moving, most dairy households moved back to their houses to let tourists stay thanks to a fee. They also accept to cook for guests but must have a phone call in advance to prepare the menu. There is a certain business that invests in piers, restaurants and outdoor living equipment such as tents, tables and chairs, …
Self-sufficient travel experience on Phat Son island
Coming to Diep Son, tourists can experience a life full of human-to-human affection, simple simplicity and sincerity, which I cannot find in modern life. Coming here I felt like finding myself again, returning to my childhood with folk games, playing hopscotch, jumping, eating mandarin umbrellas, eating fresh seafood dishes, staying at local residents' houses, enjoying welcomed as expatriate children returning to their homeland, all creating warmth. And that makes me always give this place a special affection that every time I mention it, I want to visit.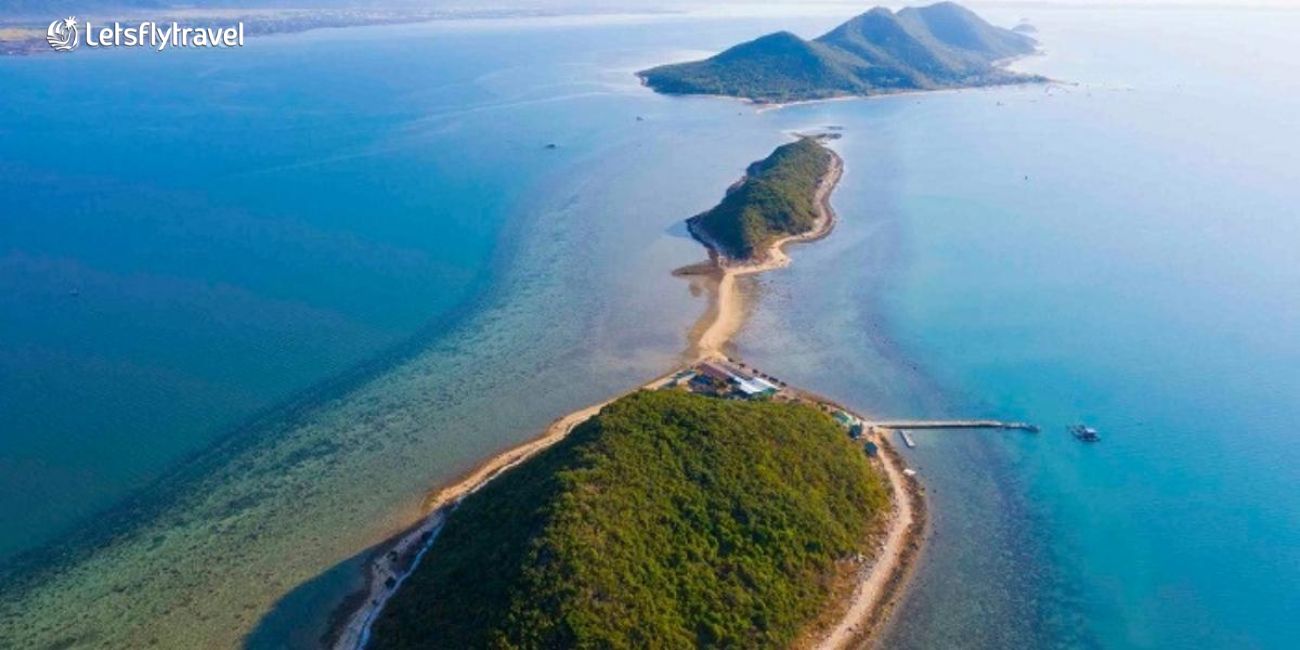 The special and unique feature that makes Diep Son island tourism the hottest tourist destination in 2021 is the walking path under the sea. At 6am, the low tide will become a prominent road in the middle of the sea, you can walk from one island to another without any means of transport. Many people shared that when they came to this island, looking at the deep blue sea on both sides with schools of fish swimming around is a very special feeling that you can't find anywhere, except Diep Son.
What to eat when traveling Diep Son self-sufficient?
Facilities on the island are limited, there are few grocery stores, but the goods are not diverse and are sold at a slightly higher price compared to the mainland. In the morning, you can visit the market to eat banh soup, porridge, bread, pancakes, eat seafood. However, the market only meets in the morning, you can buy seafood and ask the locals to cook it and organize a BBQ at the beach, if you stay at a local house, ask them to cook it.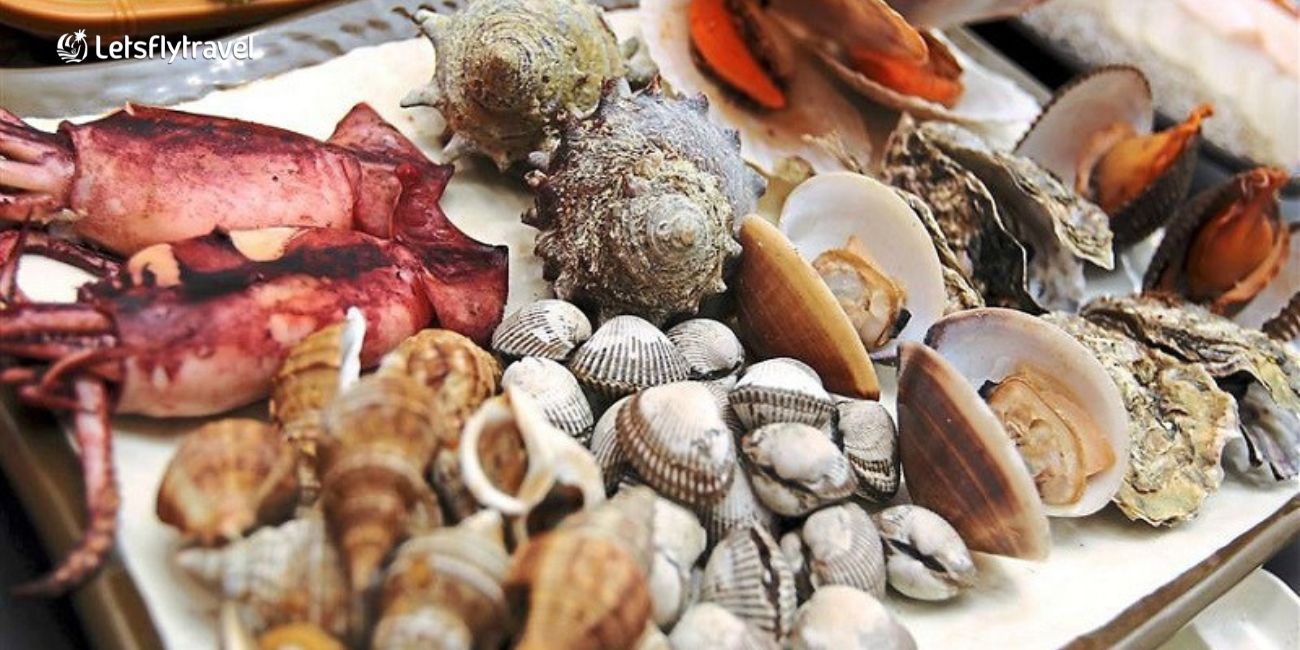 Besides, should prepare a little more dry food such as instant noodles, confectionery, flowers to eat along the way and on the island. You can give it to the kids they will love it.
Some notes when traveling Diep Son self-sufficient?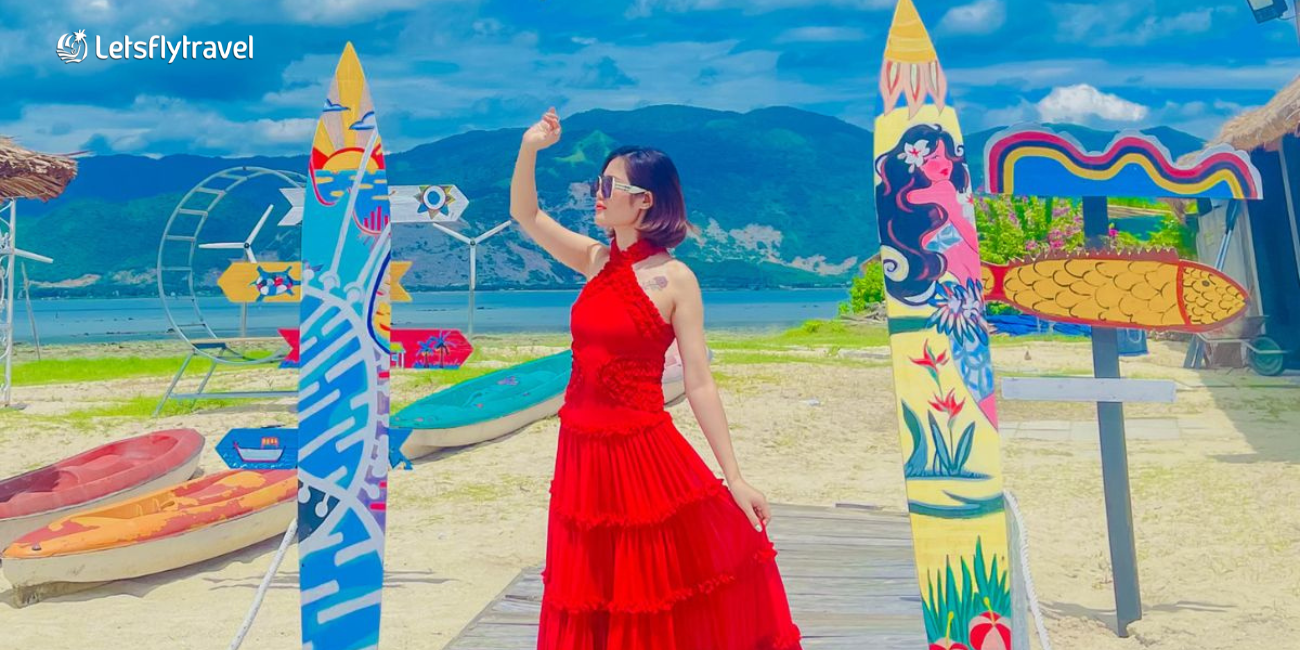 Electricity on the island is only distributed from 18:00 to 21:00. Need to prepare flashlights, candles and backup chargers for phones and cameras.
On the island there is a chicken farm, you can go there to buy chickens to eat. As for seafood, you can buy it directly at the fish market in the early morning on the coast.
Maintain general hygiene, because the island is very clean with no industrial waste, clean the accommodation before leaving.
If you have prepared a sleeping bag, you should contact the village head to ask for permission to camp in the school.
Do not cause noise or discomfort in public places or people's houses to avoid affecting them
Should not cause noise and discomfort in public places or people's houses to avoid affecting them.
Traveling is the hobby of most people, participating in tours people not only discover beautiful landscapes but also have moments of relief, letting go of how much pressure and sadness. Diep Son will be an attractive destination for today and many years to come.